 TOB - Transmitting Object Behaviors
Artist name:
Jo frgmnt Grys, Seamus O'Donnell
URL:
http://tob.de.vu/ http://www.noweb.org/noisiv/extra/archives/arch_tob.htm (backup)
Statement:
Noiz Soldering Workshop
In the Teknikerkroen "the creative bunker".
SUN 18. Nov
11:00 - 18:00 Here we try to set up a radio & noise installation (for YOU to try out) & present the electronics of it.
a powerful analog Special Noise Unit SNU, a kind of chaos-musical-noiz-generator-touch-oscillator-instrument!
a step-sequencer to give electricity certain patterns
a mini-fm-transmitter to conquer your proximity
a NEW design of a very simple digital theremin proximity sensor(experimental) for your soundcard
some new surprises & electronic DIY tricks (incl. plans) give you ability to build most electronic equipment..
We have electronic parts, have tools & show how to build the stuff in a soldering -hands on- workshop.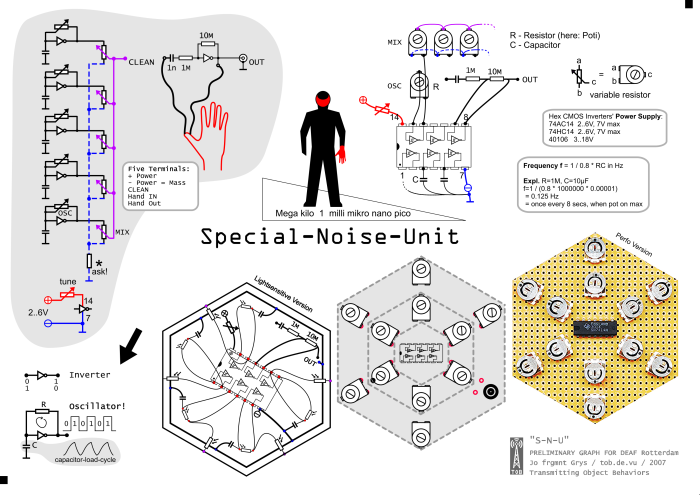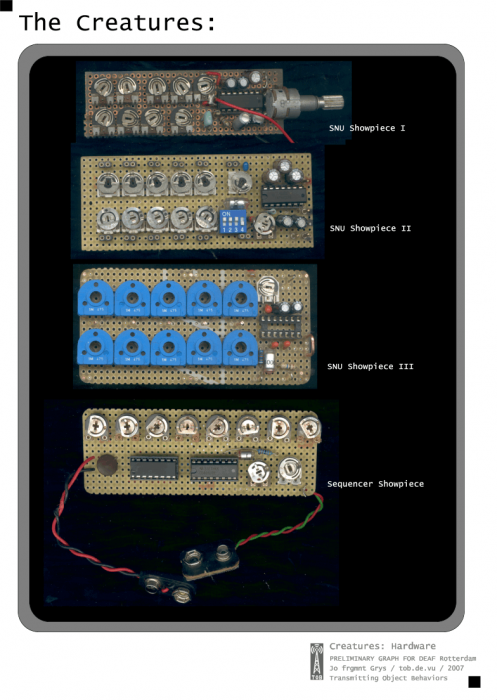 The entrance is FREE, we distribute schematics & knowledge & gigabytes of information.
For the used parts we need 12 EUR -> 100 NOK - then all you build is YOURS..


How it can sound?
Here are some examples of our own concerts:

9:51 on a party

30:08 live concert, playing an installation

55:45 Artradio


Experimental setup:
Mini FM of transmitters and radioreceivers are positioned in a room, so that varied relations
arise between the broadcasting and reception devices. Different distances of the apparatuses to each other
generate interference between transmitters and receivers.
The Transmitters are fed with sound material coming from DIY complex chaotic oscillators as well as from available
radioprograms on air.
this is ongoing work - an extended version of the DEAF workshop:
http://www.deaf07.nl/index.php?option=com_openwiki&Itemid=25&id=dn_workshop_material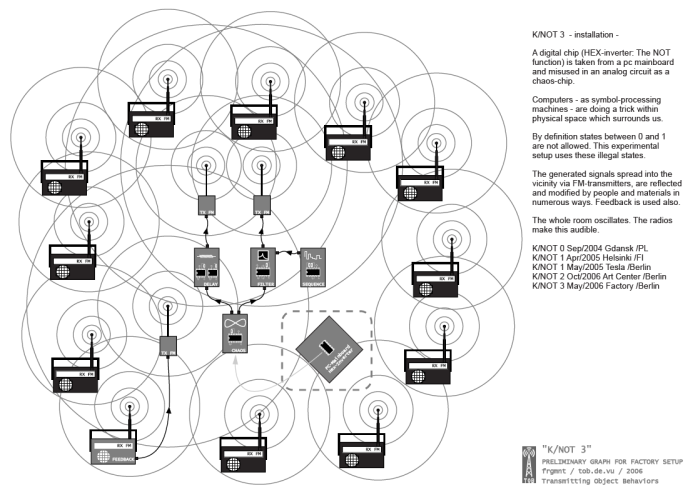 c u there!
Additional downloads: